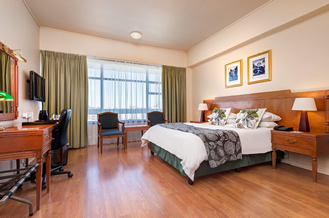 BON Hotels, who own, operate and manage hotels throughout Africa, have added BON Hotel Bloemfontein Central to their South African portfolio. The 115-room hotel, situated as the name suggests in the CBD of Bloemfontein, is in the process of undergoing re-branding and will be officially launched as BON Hotel Bloemfontein Central on 1 July 2016.
Commenting on the agreement, Guy Stehlik, CEO of BON Hotels, said that the group was confident of the value that they would bring and added that the sales and marketing contract was an ideal fit for the group. "Extending our reach into major cities in South Africa is first prize for us and with our strong Johannesburg-based sales team we are certain that we can bring valuable business to the table."
BON Hotel Bloemfontein Central – previously Protea Hotel Bloemfontein Central – caters across the market with an emphasis on large groups, corporate and government conferencing and banqueting, training and events. General Manager at the hotel Pieter van Rooyen, who has served the hotel for 17 years, says that with Bloemfontein being the judicial capital of South Africa, the hotel's close proximity to the airport and sporting facilities, coupled with its large, multi-use conference and events facilities, makes it a popular venue of choice for gala dinners, car launches, corporate training, special events, weddings, matric farewells and graduation ceremonies.
Plans and improvements include repainting the exterior, a revamp of the Porte Cochere and public areas, completing the flooring, installing new air-conditioning systems and refurbishing the popular Courtroom restaurant and Judge's bar. Van Rooyen concludes: "Striving to be a responsible hotel, we are looking at improving our green efforts as well as incorporating our community service programs in line with BON Hotels' corporate social responsibility."