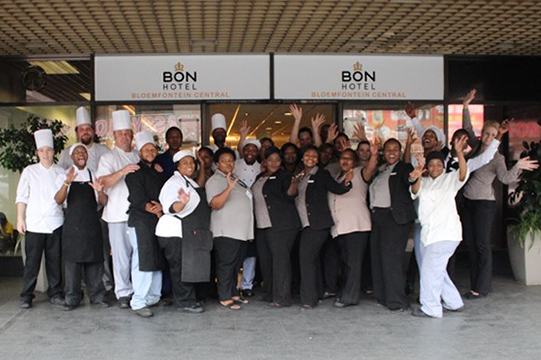 BON Hotel Bloemfontein Central has recently been hailed by the industry as an example of successful transformation. The company has been praised not only for their Level 2 B-BBEE status, but moreover for the manner and structure by which the deal has been defined: the company began its certified transformation process in 2001, concluding in 2017 with a 51% ownership by its employees via a trust fund structure.
Pieter van Rooyen, General Manager at the hotel, says that the current owners and management have always insisted on tough transformation policies and performance. "We have always honed the skills of our staff and through this have been very successful not only in promoting our staff into management positions but also in giving them the wings and seeing them succeed in the industry, locally and abroad," he says. Many a chef and manager in the hotel industry would have served some of their training or climbed the ladder at BON Hotel Bloemfontein Central.
The initial stages of the transaction saw the hotel create a profit-share scheme whereby staff members were reimbursed annually by as much as two months of their salary, depending on their position and service to the hotel. In 2007, the owners appointed Lawrence Ndlovu, Josephine Mohapi and Blaise Guillaume to their Board of Directors, resulting in a 40% black representation on their board and a Level 1 B-BBEE rating. The hotel was recognised and awarded the Lilezella Tourism Award for the most empowered tourism business in South Africa.
Their continued empowerment, transformation and development strategy was taken up a notch in 2016 when 30% of the shares in the company were transferred to the Bloemfontein Hotel Staff Trust, a trust fund that was set up by the company for the benefit of its existing employees. In 2017 a further 21% of the shares were transferred to the Trust, taking ownership of the hotel up to 51% of the shares in the business. The company now enjoys Level 2 B-BBEE rating.
Staff with a minimum of three years' service qualify as members of the Trust, and are paid dividends accordingly. Commenting on the significance of the structure, Josephine Mohapi who has been working at the hotel since 1992 when the current owners took over management ownership, said: "We feel proud to own a part of the company; the financial assistance has helped us fulfil many a dream. Our guests should be proud to know that the money they spend with us will flow through to the people who are eagerly waiting to serve them."
Broad-Based Black Economic Empowerment is often tainted with hypocrisy as many a business has found itself before the BBBEE commission, having to explain its structure and empowerment motives in what has commonly become known as B-BBEE 'fronting'. It's heartening to see BON Hotel Bloemfontein Central setting the benchmark.