Time for the 2nd edition of the ultimate urban braai-off at BON Hotel Bloemfontein Central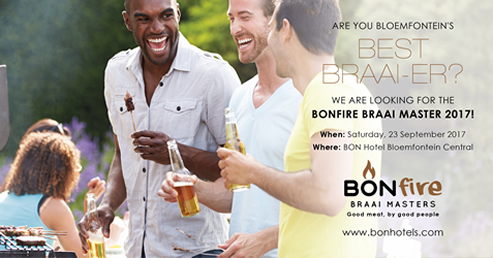 Twenty corporate teams will compete against one another in the 2nd edition of the BONfire Braai Masters competition on Saturday, 23 September, to be held on the roof-top at BON Hotel Bloemfontein Central in celebration of Heritage Day, on 24 September.
This event, one of the many taking place around South Africa, will be all about good food, good people, fun for the kids, entertainment, great music and fantastic prizes with all proceeds going towards local charity, Towers of Hope.
Each team of two will be have open access to a pantry of delicious ingredients they can use to create the plate of the day. Teams will be judged on their stand, team spirit, preparation, technique, coal-fire quality, presentation and taste.
Pieter Van Rooyen, General Manager at BON Hotel Bloemfontein Central, says he is excited to be hosting this event for the second time and is looking forward to the day, to giving back to the community, his guests and staff.
Friends, family and the public are welcome – there is no charge – come and enjoy a day of food and fun as the sun sets over the City of Roses.
For further information or to enter a team, please contact Charlize Badenhorst at sales@bhbloemfonteincentral.co.za and keep an eye on Facebook for updates:
When: Saturday 23 September 2017 from 10h00. Competition starts at 12h00. Judging starts at 14h00.
Where: BON Hotel Bloemfontein Central, Bloem Plaza, East Burger Street Find us on the roof-top parking lot
Beneficiary:
Towers of Hope