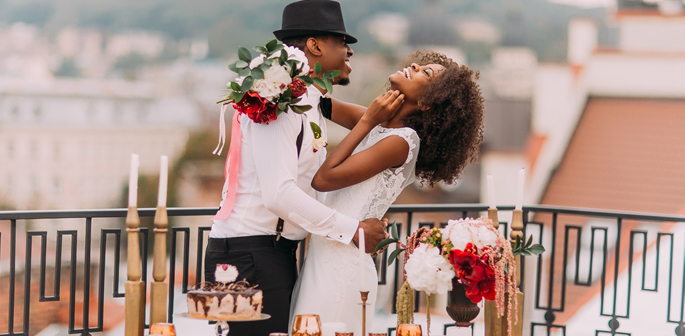 An inspired backdrop for your big day
Couples often agonise over choosing the perfect venue for their wedding. The location of the reception has an effect on every element of the big day, from the choice of suppliers to the number of guests who can attend – the pressure is on to choose something to suit everyone. Not only that, but the wedding venue says so much about you as a couple; you've got to pick a venue to reflect your styles and personalities.
Having said that, your classic wineland or beach wedding, whilst still popular, is fast being replaced with more contemporary, individual and modern takes on this age-old tradition, seeing more and more couples opting for city weddings using innovative spaces, and cool ideas for their new-age 'I do's.
Lucy Rangasamy, General Manager at BON Hotel Midrand, says their hotel is perfect for a big city wedding – often an issue when it comes to finding space for 300 guests, plus your mother's friend's cousin's son. She adds that the hotel offering for guests extends beyond just bedrooms and amenities, with generous packages offering all sorts of add-ons like 'the best breakfast in town', a shuttle service, spa treatments, hair and make-up stylists, and much more.
And the photo opportunities are endless – as a start the contrast between the dress and the urban location would be delicate and authentic – imagine a downtown, grungy street, a colourful, graffiti-swamped wall, modern or crumbling architecture, or an old car posed against the sidewalk as the sun sets. Better yet, if it's bucketing down, bring out the umbrellas and pop on some Wellingtons, and really make a splash
Banqueting Manager at BON Hotel Bloemfontein Central, Dayana Kerber, says that they are getting more and more enquiries for rooftop weddings and events. "We recently hosted a function on the rooftop parking area, which was spectacular – a celebration beneath the stars on a perfect summer's evening with the sounds of the city vibrating in the background."
From stylish and urbane to electric and bustling, hosting a wedding in the city can provide an inspired backdrop with a ton of ideas on which to base your nuptials.
Wedding packages at BON Hotels start from R200 per person, view here.