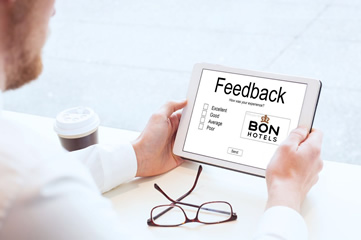 Following the recent success of our athletes in Rio at the Olympic Games, it is well worth noting that preparation is key for success and much like a runner gets ready for a race, from eating well to training hard, achieving performance targets, analysing data and statistics, teamwork, creating a following, and continuous efforts to lead the pack, so too do hotels prepare for their guests, all in the race for the rave review.
In an article published by Tripadvisor in 2014, results from a survey conducted by PhoCusWright reported that most guests write reviews for positive reasons in that they feel good about sharing their experiences at a hotel and offering useful information. Says CEO of BON Hotels, Guy Stehlik, "Hotels need feedback from both quarters – the positive compliments assist us to evaluate what we are doing well, and the negative, where and what we need to improve upon." He adds that the group's response time to any comment is less than a day and the guests are contacted personally to address their concerns, or in the case of positive feedback, to receive a big thank you and an invitation to return, 'and a cocktail on us for their next visit'."
The report also showed that the average guest will read between 6 – 12 reviews before booking a stay – all the more reason to use reviews in a positive way to increase and improve your following and keep the guest coming back for more.
You have the foundation but time, effort, hard work, a team approach and consistency are required to ensure that your guest has a good experience. All departments need to be working towards a common goal with the same mindset and input.
A spacious, well-lit room, with a comfortable bed and plump pillows goes a long way to making your guest happy and ensuring that he/she is well rested to be on top form the following day . "Throw in universal plugs, complimentary, high speed wi-fi, a spacious desk and comfortable, executive chair, superior room service and a bouquet of TV channels to choose from and you should have a happy guest," says Craig Swart, General Manager of BON Hotel Riviera on Vaal.
Whether your hotel offers an in-house dining experience or an outsourced brand, a diverse and interesting menu with healthy, tasty food and beverage options is of the utmost importance. Adds Chef Blaise, at BON Hotel Bloemfontein Central, "Guest profiling is a wonderful tool to use when designing our menus so as to include dishes that guests like to eat, whether they be traditional fare, home-grown favourites, the current trend, diet-related or something from around the world – my staff and I like to be challenged and are continually looking for ways to bring good food to the table."
Director of Human Resources at BON Hotels Brenda Diedericks says, "Over and above our standard training programmes, we continually run internal workshops and refreshers, to re-motivate and energise – also giving our employees an insight into all departments." The group's Best of BON employee of the month initiative is an excellent tool to acknowledge, motivate and reward hard work and also allows management to seek out potential.
The staff, who are a fundamental part of the team, work tirelessly behind the scenes to ensure that the hotel and the rooms are in tip-top condition in preparation for the guest's arrival. Says General Manager of BON Hotel Bloemfontein Central Pieter van Rooyen, "The hotel cannot function or succeed without the support and expertise of our most valuable asset, that of our people – from our porters to our chefs, housekeeping, reception and management."
Many hotels offer rewards programmes as a way of saying thank you to their guests for their support and sharing their experiences at the hotel. BONami, launched earlier this year at BON Hotels, gives back to their fan base by offering instant discounts on accommodation and food and beverage. Says Stehlik, "Think of BONami as your friend with benefits."
So, if your targets are set, your training is in place, you have a common goal in sight, you have the back-up and the support, then you are ready to go for gold!
Ready, set, go!