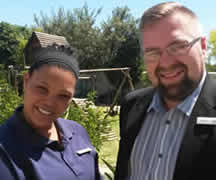 With the significant shortage of skilled labour in South Africa, especially within the hospitality sector, BON Hotels has adopted a unique approach to filling vacant positions at their hotels. BON Hotel Shelley Point launched the Casual Pool Initiative in October 2015 to educate and develop people from the local community, providing on-site experience and knowledge, thereby creating a pool of skilled individuals from which the hotel can source employees to fill various positions that become available.
Brenda Diedericks, Group Human Resources & Training Director for BON Hotels states that for hoteliers on the West Coast a major concern is the lack of experienced or qualified applicants to fill vacancies – the community has limited access schools and training facilities, let alone capital, so the Casual Pool Initiative is offered free of charge to all successful applicants who have been interviewed by the General Manager. Experience is not a pre-requisite; however they do consider more favourably candidates who have a senior certificate – and, more importantly, who show a real interest in the industry and a willingness to learn. Typically they will look at applicants between the ages of 18 and 30, but will not turn away promising candidates who are older. The Pool consists of 20 to 30 members who go on a two-week training schedule that allows them to experience the hotel from a guest perspective as well as working in all departments – kitchen, housekeeping, reception and restaurant.
On completion of the course all candidates receive a certificate, along with testimonials from management, to assist them in acquiring work elsewhere, if the hotel has no vacancies available at that time. "We already have two permanent staff working with us from the Casual Pool Initiative who continue to grow and show enormous potential – we are very proud," says Petrus Munro, General Manager at BON Hotel Shelley Point.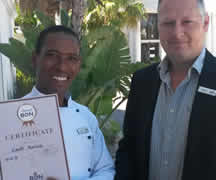 CEO of BON Hotels, Guy Stehlik, says that this initiative will be rolled out to all their other properties in 2016. He is confident that this pooling of efforts and experience will benefit the communities that service the hotels and, indeed, the hotels themselves, providing opportunities for growth and development in a simple but highly effective and rewarding manner.