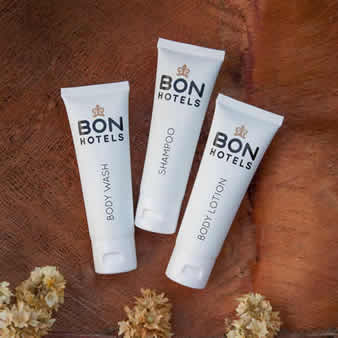 A fresh look at bespoke amenities for the hotel industry
Go on, admit it, you have checked out of your hotel room with a little something tucked away under your favourite pair of jeans in your suitcase – the slippers, a gown, a tube of shower gel, the mini shampoo and conditioner bottle or a branded pen? The question is, why? Is it the packaging, the delightful scent – is it just that tempting, or simply there for the taking? Whatever the reason, those little bottles of lotions and potions, creams and creature comforts are big business – hotels almost want you to enjoy it enough to take it, as it implies that they are getting it right!
Guest amenities manufacturing and procurement in the hotel industry is a competitive environment limited not only to reasonable pricing, but it is also a science of formulas, tools, recipes, emulsions and fragrances – all aimed at personalising the experience and impressing the guest.
In May 2012, BON Hotels appointed Bespoke Amenities to design an exclusive range of products for all their properties. Riaan Raubenheimer, New Developments Manager at BON Hotels, says, "Bespoke ticked all the boxes for us in that most importantly they are one of the only suppliers to manufacture their products locally, and they were willing to start from scratch and try and try again to get things right for us. They offer competitive pricing and use superior, high-quality ingredients for all their products, which are recyclable too – so a sensible choice all round."
A relative newcomer to the industry, Bespoke Amenities may not have a long track record but an experienced management team, a panel of very clever people and passionate staff members, backs their rapid success with over 1 000 hotels offering their premium products. The fact that they have challenged the norms and ventured to manufacture locally rather than import products from abroad, is a deciding factor for many properties considering their offering.
The process is not a quick one and a great deal of thought goes into the packaging (probably the most critical aspect) – the size, colour and shape must be appealing to the eye; the formula – getting the levels of ingredients right – something that is soft and gentle on the skin; and lastly the fragrance – nothing too astringent, creating just the right notes that will appeal to all guests. Slippers are all the rage again and Bespoke's Managing Director Bruce Turner says they currently have to expand capacity to keep up with the demand. "This has required employing more staff and investing in additional machinery, but skills development and staff empowerment is key to the success of our business and at all times supports our vision and growth for the company," he adds.
Statistics from Bespoke Amenities indicate that South Africa seems alive and well when it comes to competing for the manufacture of guest amenities:
Job creation and employment is high
Up to 1 000 000 tubes or bottles are filled in a month
Over 40 tons of liquids per month are manufactured (shampoo, body wash, body lotion or conditioner)
500 000 bars of hotel soap are manufactured per month, which is around 17 500kg
Over 150 000 labels are applied to products during each month.
Great time, care and consideration are devoted to all the goodies you see dotted about the hotel, so if you are leaving with more than you came with, that's fine by us – it just means you like it and we like that, so enjoy!